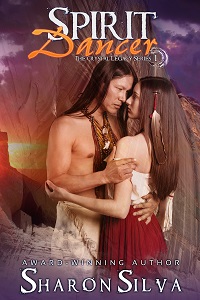 $3.99 ebook, $11.44 Trade Paperback
"What ancient secrets may still lay buried in the earth or in the hearts and spirits of those who dare to question their destiny?"
Overview
Among the hallowed ruins of Mesa Verde, Colorado, Alex Nakai searches for an answer to a question that could rock the archaeological community to its foundation. Journalist Jessica Sinclair is determined to use Alex's discovery as a stepping stone in her career. But the spirits of an ancient sacred ruin have another agenda that will send Alex and Jessica's missions spinning in a new direction and bring Alex forthright with his own Native heritage and spiritual destiny.
Passions hotter than the sun of the desert southwest and ghosts who haunt an ancient ruin pull Jessica and Alex into a drama that spans the bridges of time and draws them into a world of mystery, romance and the timeless battle between good and evil.
"It's like Romancing the Stone in the desert southwest"
Reviews
"Through this wonderful story, the author takes us on a spiritual journey back to our Native American roots awakening the ancestral blood flowing through our veins. Great book! If you like to read about the Southwest, you'll love this book."
"I loved the use of imagery in this book. It made me feel like I was actually living the story. I loved following the journey of Alex and Jess and couldn't wait to see what would happen next. I am definitely looking forward to the next book of the series."
"Excellent concept for a romance, mystical fiction novel…  I hear it is the first of many—wow! Keep them coming, Sharon, this is a fabulous book with a stunning cover!"
"As someone from the Southwest, Spirit Dancer by Sharon Silva was a nostalgic trip home. Well done. She captures the culture and mysticism of the region and makes you fall in love with the characters from page one."
"Sharon Silva's vivid descriptions capture the mystery and allure of the ancient people of the Southwest. The character's plight grips the reader from beginning to end. What a great book!"
"What an awesome book! So much detail and insight into the spirit world. It gives amazing hope for past lives and lives yet to come. The characters are vibrant and intertwine in a captivating style!"
"Last night I finished reading Spirit Dancer. I had to finish it. I couldn't put it down. What a page turner!!!! The plot is very well crafted, the characters endearing and the locations so well described I could see them in my mind's eye. Write on, Sharon! I can't wait for Volume II."
"When I picked up Spirit Dancer and read Sharon's poem, the Anasazi, I knew I had to read her book. And I was right.  It connected me with my own heritage and my own roots. I want to thank Sharon for writing this book. I loved it. I lived the adventure and will live it again as I read the book again and again."
Other Books in "The Crystal Legacy Series":